By guest blogger Jessica Haggard
Add variety to your morning coffee with this tasty ashwagandha coffee recipe. It's warm and cozy just like your favorite latte, with hints of spicy sweet cinnamon and earthy ashwagandha. Made with five ingredients and ready in about five minutes, you can get a nice energy boost with the adaptogenic benefits of ashwagandha.
WHY YOU'LL LOVE THIS RECIPE:
Simple ingredients – Just five ingredients you probably already have.
Short prep and cooking time – Ready in about five minutes.
Amazing flavors – So tasty! Deep, earthy, and warm with just enough sweetness to cut the coffee and brighten up the ashwagandha.
Basic kitchen equipment – Brew your coffee and froth the milk with a milk frother or follow the alternative methods below.
Easy-to-follow directions – Walk through four simple steps.
Minimal cleanup
What is Adaptogenic Coffee?
My Cleveland Clinic defines adaptogens as natural compounds that "help your body respond to stress, anxiety, fatigue and overall wellbeing."
Are you familiar with those feelings? Our modern life involves a lot of stress. From overtime to traffic, economic pressure to information overload, we are challenged with chronic stress repeatedly in our daily routine.
For centuries, traditional Chinese medicine and Ayurvedic medicine have used adaptogens to restore the body back to health by managing the stress response and supporting the immune system and adrenal health.
While there are many, ashwagandha is just one type of adaptogenic herb. Other adaptogens include ginseng, Rhodiola, and reishi mushrooms. Adaptogens can be herbs, roots, or mushrooms.
This ashwagandha drink is an example of one way to make an adaptogenic coffee, which combines the power of adaptogens with a cup of coffee. Combining ashwagandha and coffee has some amazing benefits. It's naturally energizing due to the coffee while also uplifting, calming on the nervous system, and clarifying to the brain. It's a perfect balance of increased energy levels with a more focused brain function.
In my own life, adaptogens for stress relief are an important part of my personal care. I usually take adaptogenic supplements, but I also like making recipes like maca chocolate, reishi and shilajit chocolate, and nutrient-dense chocolate bars with adaptogenic herbs.
So when I came across the idea of mixing ashwagandha into an adaptogenic coffee, I knew it would take my morning cup of joe to the next level.
How to Make Ashwagandha Coffee
Make a deliciously warm and comforting ashwagandha coffee in your favorite mug with only five ingredients in about five minutes.
Start by brewing the coffee any way you like it best. From drip coffee makers to the pour-over method and French press, each has a slightly different flavor and process for making, but they all taste good. Use any method you prefer.
Prep this recipe simultaneously as the coffee brews.
Ingredients You'll Need
Coffee – freshly brewed hot coffee made by your preferred method.
Milk – Raw milk, whole milk, or whichever milk you like best.
Sweetener – Just a little to taste. Use a keto sweetener or equal parts of honey, maple, sugar, or other choice of sweetener.
Cinnamon – A little ground cinnamon powder is the perfect addition for flavor. Plus a bit extra for optional dusting on the milk before serving.
Ingredient Substitutions
Even though this is such a simple recipe, you might be missing one of the key ingredients.
Here are some suggested substitutions:
Coffee – Avoid caffeine and use decaf coffee instead or regular. You can also brew a herbal coffee or roasted chicory root as a suitable coffee alternative.
Milk – Choose any dairy or plant "milk," like coconut milk, nut, or seed milk.
Sweetener – Any sweetener works: granulated, liquid, sugar-free substitute or regular sugar. Adjust to taste.
Cinnamon – As an alternative to cinnamon powder, use store-bought or DIY chai spice or pumpkin pie spice instead.
Variations
Want to add your own spin to this delicious ashwagandha latte?
Try these coffee variations:
Add a tablespoon of CHOQ Lit Powder for a delicious organic chocolate + superfood boost
Add vanilla flavor with ¼ tsp vanilla extract.
Taste as you go. Adjust the sweetener as needed.
Make it a protein-rich drink by stirring in a scoop of your favorite protein powder.
Start with cold brew instead of hot coffee, mix all ingredients together with a milk frother and pour over ice for a tasty iced latte drink.
Diet Modifications
Keto diet – Froth coconut milk and sweeten it with a keto-friendly sugar replacement.
Dairy-free – Use coconut milk, nut, or seed milk
Carnivore diet – As a low-fiber keto recipe, this is already keto carnivore-friendly and nutrient-dense. Enhance the animal-based ingredients by using dairy milk and adding a raw egg yolk or ½ tablespoon of butter for extra creaminess.
Paleo diet – Brew an organic coffee and sweeten it with a natural sweetener like honey or maple syrup.
GAPS diet – Pick a low-acid coffee or use an herbal coffee alternative. Use honey as your sweetener. Substitute the dairy milk for coconut milk or butter instead.
Whole30 or AIP diet – Omit the sweetener and use coconut milk or other plant-based milk.
This recipe is also nut-free, grain-free, egg-free, nightshade-free, phytate-free, and low in histamine.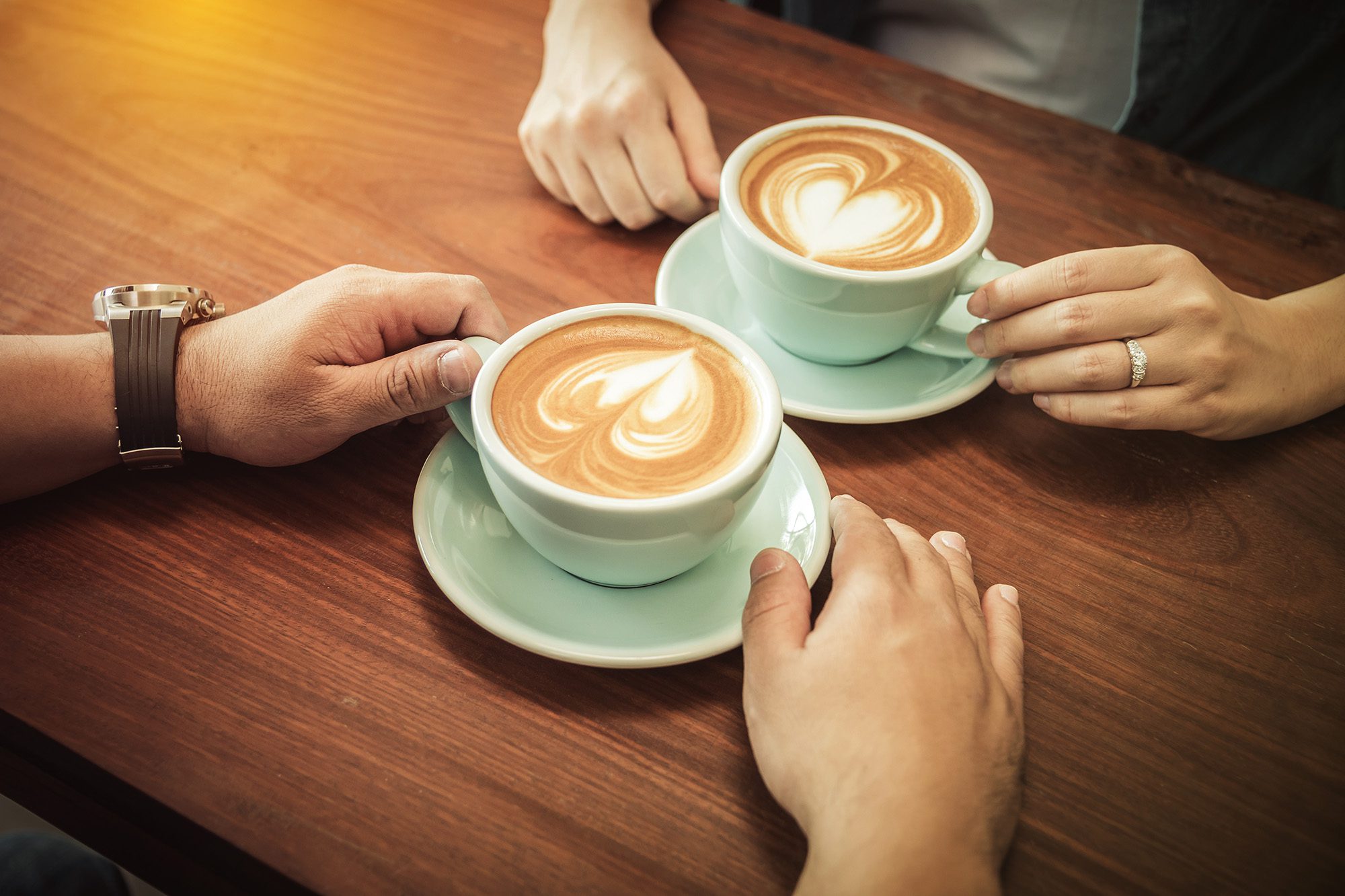 Step-By-Step Instructions
It's as easy as brewing coffee, mixing the ashwagandha, and frothing the milk before serving.
Follow these simple directions, and you can't go wrong.
Brew coffee
Heat milk in a small pot over medium-low heat until it's warm and steaming but not boiling
Open a capsule of CHOQ Ashwagandha and dump it into the milk
Add other ingredients and mix thoroughly
Froth the milk using a milk frother or vigorously whisk it in the saucepan
Pour the milk over coffee
Dust with optional cinnamon and serve immediately
Expert Tips
Use high-quality coffee beans for the best flavor.
If you prefer a stronger coffee flavor, you can use a double shot of espresso or increase the amount of coffee used.
Similarly, adjust the quantities of ashwagandha, milk, sweetener, and cinnamon according to your taste.
If you're working with smaller cups, cut back to ½ cup of milk for a yield of 12 ounces.
No milk frother? I suggest you get one if you love making homemade coffee drinks. They are a fun kitchen tool and are typically not too expensive. If you don't have a frother, whisk the warm milk vigorously in the saucepan until it becomes frothy. Alternatively, pour the milk into a jar no more than halfway full. Then, seal tightly and shake for 20-30 seconds until bubbly.
Embrace your inner barista by pouring the frothed milk into the coffee, using a spoon to hold back the foam while you pour. Then, slowly add the foam on top of the coffee.
Wondering how to dust with cinnamon? It's really simple. Use a small fine mesh strainer, my friend gave me a tea ball, and it's the perfect tool. Put the cinnamon in it and gently tap it until the cinnamon falls through on top of the frothed milk.
Nutritional Info
This recipe yields 16 ounces or one full-size, single cup of coffee.
Per serving, with dairy milk:
151 calories
8 g protein
8 g fat
17 g total carbs
1 g fiber
16 g net carbs
Please note that the nutritional value will change if you substitute ingredients. Use a nutrition app to recalculate and reflect your changes.
How to Store this Recipe
Overall, I don't recommend making any part of the drink ahead of time and storing it. Coffee always tastes the best fresh. And frothed milk will lose its airy texture over time.
If you find yourself getting called away right as you're about to sit down and relax with this hot drink, pour it into a to-go cup. The cup will keep it insulated and warm so you can take it out and about.
You could technically refrigerate or even freeze leftovers if that helps you. Keep the coffee in an airtight container in the refrigerator for up to three days. Before serving, reheat it in a small saucepan over medium-low heat and then prepare the milk according to the recipe instructions.
Similarly, if you bulk-prep coffee and want to freeze it, wait for it to cool completely before pouring it into a freezer-safe container or silicone mold. Then, thaw, reheat, and prepare the milk.
How to Serve this Recipe
Ashwagandha can be served any time of day, from morning to night, depending on when you like to drink coffee.
Myself, I drink it in the morning because it's a healthy way to minimize the effects of stress, which IMO should happen as a first order of business. Plus, drinking coffee is already part of my morning routine, so it's a natural fit. How I love starting the week on Monday morning with this brew-tiful morning beverage!
However, I have friends who can drink coffee at night and don't get affected by the caffeine. It's up to you.
Here are some suggested times to enjoy this:
Morning – Start the day with balance and focus.
Afternoon – Get a pick-my-up energy boost for better productivity later in the day.
Pre-workout – Coffee brings the caffeine, and ashwagandha could help endurance and reduce exercise-induced stress.
Evening – If you're a coffee-at-night person, relax and wind down after a long day.
 Want to know more about Ashwagandha's properties?  Check out this article, where we reviewed 46 different clinical studies on this epic adaptogen: How Long Does Ashwagandha Take to Work?